HOME
> Kobe Nunobiki Herb Gardens & Ropeway – Facility Outline




1-4-3 Kitanocho, Chuo-ku, Kobe City,
Hyogo Prefecture 650-0002 Japan
TEL: +81 78-271-1160 | Japanese Website
Surrounded by flowers, herb garden is ensconced in the mountain above the picturesque port city of Kobe.
Kobe Nunobiki Herb Gardens are Japan's largest herb gardens with about 75,000 herbs and flowers of about 200 kinds blooming throughout the year. There are 14 garden areas where visitors are welcomed by seasonal herbs and flowers arranged according to different themes.
Do you want to feel romantic?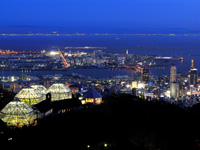 Take our new ropeway for an airy ride in the sky up to the mountaintop & enjoy the panoramic view of Kobe!
Each ropeway car has glass around all sides, providing a panoramic view for passengers. You will enjoy the beautiful scenery of Kobe City and the Seto Inland Sea stretching all the way to the Osaka area during the 10-minute ride to Herb Gardens Top Station.
Take a night ride on the ropeway and enjoy the gorgeous night view of Kobe. From the ropeway, the Glasshouse in our Herb Gardens and lights on the streets of Kobe will look like sparkling jewels of various sizes sliding into the ocean.
After your car passes landmarks down below, such as Nunobiki no Taki Waterfalls and Gohonmatsu Entei (Nunobiki Gohonmatsu Dam), which is designated an Important Cultural Property, you will be welcomed by the sight of colorful flowers in our Herb Gardens and arrive at Herb Gardens Top Station.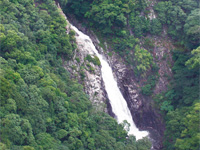 Nunobiki no Taki Waterfall:
This waterfall is located in the midstream of the Ikuta River flowing in the north side of Shin-Kobe Station. It is one of the sources of renowned, high-quality KOBE WATER, which became famous among crews of foreign ships that procured water at Kobe Port. The waterfall is one of the Best One Hundred Waterfalls of Japan.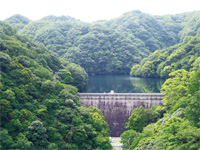 Gohonmatsu Entei (Nunobiki Gohonmatsu Dam):
This, the first concrete gravity dam in Japan, is designated an Important Cultural Property. This architectural heritage is also considered a symbol of the high quality of the renouned "KOBE WATER."
Strolling around the Herb Gardens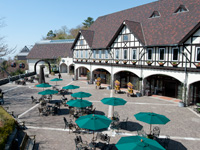 When you step off the ropeway car at Herb Gardens Top Station, from View Plaza you can gaze down on the lovely flowers in the Herb Gardens, the port city of Kobe, and the sparkling blue sea beyond.
It is highly recommended that you take time to walk through the garden via either the Four Seasons Garden or the Oriental Garden, and then down to ropeway Kaze no Oka Mid Station.
Visitors are surrounded by pleasant aromas wafting from herbs and flowers everywhere in the Herb Gardens while enjoying the color and fragrance of each season.
There are many restaurants and cafes which serve meals using seasonal herbs. Enjoy the aromas and tastes in a relaxed manner in a special space that is a treat for all the senses.